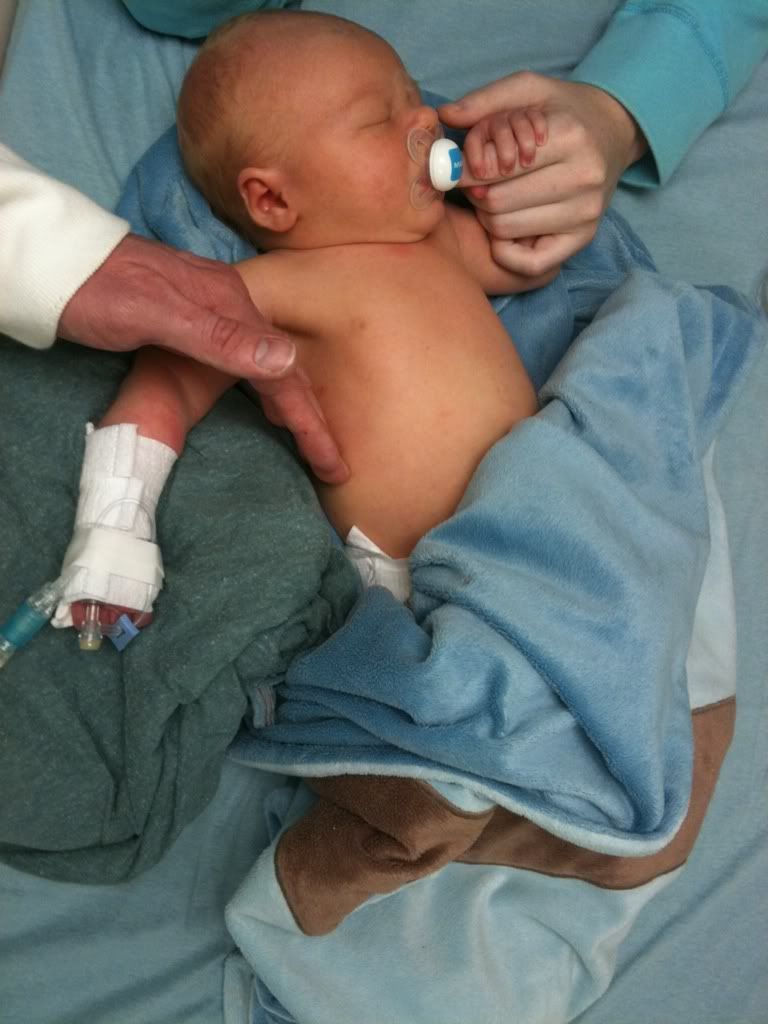 First off I just want to say that Beckham is totally fine and doing wonderful!!
We were told to take Beckham to the pediatricians one day after we left the hospital just to make sure he didn't have jaundice. So when we went in they asked the last time he had a wet diaper. And he hadn't had any wet diapers in 30 hours since the day before at the hospital. So they were immediately super worried. She gave us formula and told me to feed him right then. He drank the whole bottle and still wanted more! So the doctor said I'm going to call you tonight at 4:30 and 6:30 and make sure he had a wet diaper. So we went home. Fed him every 2 hours and 4:30,6:30,7:30 and 8:00 passed and still no wet diapers!! Plus then I noticed him spitting up a tiny bit of blood too! I was so so worried. The pediatrician called me again and said take him to the ER immediately!
So we drove down to Scottish Rite Childrens hospital.(equivalent of primary Childrens but for the South East).
It was so scary just being there with a 2 day old baby. They checked him out and decided they would do an iv and run tests. So when they went to check his temperature(in the bum) he poof and peed everywhere!!! We were all so excited! Ha ha they still wanted to do an iv to get him fluids. And that was the worst part. Baby vans are so tiny they would collapse when they finally found the vain. Mean while Beckham is crying cause it hurts!!! Billy was so stressed and kept saying "I'm fine if you don't do the iv" he was worried they might do permanent damage by searching and messing with all his vains. Finally after a couple hours and a few different doctors they got the iv in. He got fluids and all his tests came back normal. So we were allowed to take our boy home!! Oh and they think the blood was probably blood in his tummy from delivery. So they didn't seem to worried about it. We go back to the doctor on Tuesday to make sure his weight goes back up. He was born at 9.2 and at ER he weight 8.2 so he lost quite a bit in one day. But we're pretty confident he'll be back to normal weight tuesday. He's doing great now!!
I am so grateful for a pediatrician that I really really trust (Roswell pediatrics) and good doctors at Scottish Rite!! And a wonderful husband who gave our little guy a blessing! I have really learned how many peoPle it truly takes to take care of a baby. Their little lives are touched and influenced by so many people!